Electric Pallet Truck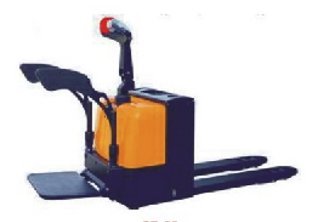 Electric Pallet Truck
Price And Quantity
Unit/Units

10.00 - 20.00 INR
Product Specifications
New

2200-3000 Kilograms (kg)
Electric

Battery operated pallet trolley with stand on platform.
Product Description
We are a fast-paced organization, committed to meet the rising needs of valuable clients by manufacturing and supplying Electric Pallet Truck. The truck is used in industrial warehouses for lifting and unloading bulk materials. Operated on battery, our truck is manufactured by using optimum grade materials and components. The fork length and lifting capacity of the Electric Pallet Truck can be customized as per the client's requirements.
Features:
Easy to operate

Less power consumption

With stand on platform
Battery operated pallet trolley.
With stand on platform.
Robust construction, tandem wheels, low service cost.
Italian power system.
Available capacity: 2200 Kgs & 3000 Kgs.
Available options: special fork length, width, wheels & capacity as per requirement.
| | | | |
| --- | --- | --- | --- |
| Model No. | | SB - 08 | SB - 08 |
| Power(electric, diesel, gasoline, liquefied petroleum gas) | | Electric | Electric |
| Driving mode (hand, pedestrian, stand-on, sit-down, unit-pick) | | Pedestrian | Pedestrian |
| Rated loading capacity Q | (kg) | 2000 | 2200 |
| Load centre distance C | mm | 600 | 600 |
| Front overhang distance X | mm | 963/1033 | 963/1033 |
| Track Y | mm | 1275/1335 | 1368 |
| Weights | | | |
| Weight (with accumulator) | kg | 450 | 520 |
| Axle load at full load Drive side/load side | kg | 850/1600 | 1082/1630 |
| Axle load without loading Drive side/load side | kg | 350/100 | 399/113 |
| Wheels | | | |
| Tyres (rubber wheels, high-performance elastomeric,Pneumatic wheels, polyurethane wheels) | | Polyurethane wheels | Polyurethane wheels |
| Tyre size, drive side | mm | 252 x 89 | 230 x 75 |
| Tyre size, load side | mm | 80 x 70 | 84 x 70 / 74 x 70 |
| Dimension of steering wheel | | 100 x 40 | 100 x 40 |
| Wheel numbers (X=driving wheel) Drive side/load side | | 1x +2/ 2/1x +2/ 4 | 1x +2 / 2/1x +2/ 4 |
| Wheel track (front)Drive side b10 | mm | 530 | 500 |
| Wheel track (back)load side b11 | mm | 380/525 | 380/525 |
| Dimension | | | |
| Lift height h3 | mm | 120 | 120 |
| Height of lever in middle position h14 | mm | 1050 | 1323 |
| Height of fork when being lowered h13 | mm | 82 | 85 / 75 |
| Overall length l1 | mm | 1785/1855 | 1851/1885 |
| Length of truck body l2 | mm | 635 | 665 |
| Width of truck body b1 | mm | 726 | 726 |
| Fork dimensions/e/l | mm | 60/160/1150 | 60/160/1150 |
| Lateral distance of fork b5 | mm | 540/685 | 540/685 |
| Distance from wheel base centre to ground m2 | mm | 22 | 25 |
| Right angle stacking aisle width, pallet800X1200(1200 placed along fork ) Ast | mm | 2295/2335 | 2305/2344 |
| Turning radius Wa | mm | 1630/1700 | 1640/1710 |
| Capability | | | |
| Driving speed full load/ no load | km/h | 5.0/5.2 | 5.8/6.0 |
| Lifting speed full load/ no load | mm/s | 22/30 | 19/35 |
| Lowering speed full load/ no load | mm/s | 31/23 | 30/27 |
| Climbing capacity full load/no load | % | 8/16 | 9/15 |
| Parking brake | | Electromagnetic brake | Electromagnetic brake |
| Motor | | | |
| Drive motor power kw | kW | 1.5 | 1.5 |
| Lift motor power | kW | 0.8 | 0.8 |
| Accumulator, U.K. BS standard, no | | 3VBS | 3VBS |
| Voltage of accumulator, capacity (discharge rate5 hours) | V/Ah | 24/165 | 24/210 |
| Accumulator weight (+/-5%) | kg | 160 | 185 |
| Battery dimension, length X width X height | mm | 455 x 196 x 570 | 645 x 196 x 570 |
| Others | | | |
| Driving and control methods | | FET Control | FET Control |
| Noise heard by the driver | dB(A) | <70 | <70 |
| Turning angle | o | <180 | <180 |
Trade Information
Bubble Packaging.

All India